Adventure Dad Summer Contest:
It's Never Too Early to Hit the Trails and Explore Europe!
As a professional mountain biker and adventure racer, I look forward to the days when I can spend time engaging in serious athletic activities with my son, Wyatt.  I realized this summer, however, that it's never too early to begin the adventure!
Wyatt, who was born January 2nd of this year, Amy, and I had an incredible summer together.  We spent three weeks in Europe, and Wyatt served on the support crew for a nine hour mountain bike race in France and an eleven hour mountain bike race in Austria.  While I raced, Wyatt and Amy drove from point to point to hand me water bottles and food.  He's a real trooper, and seeing him along the way definitely gave me an extra boost!  Here, Wyatt grabs a crucial mid-race snack at one of the mountain biking events: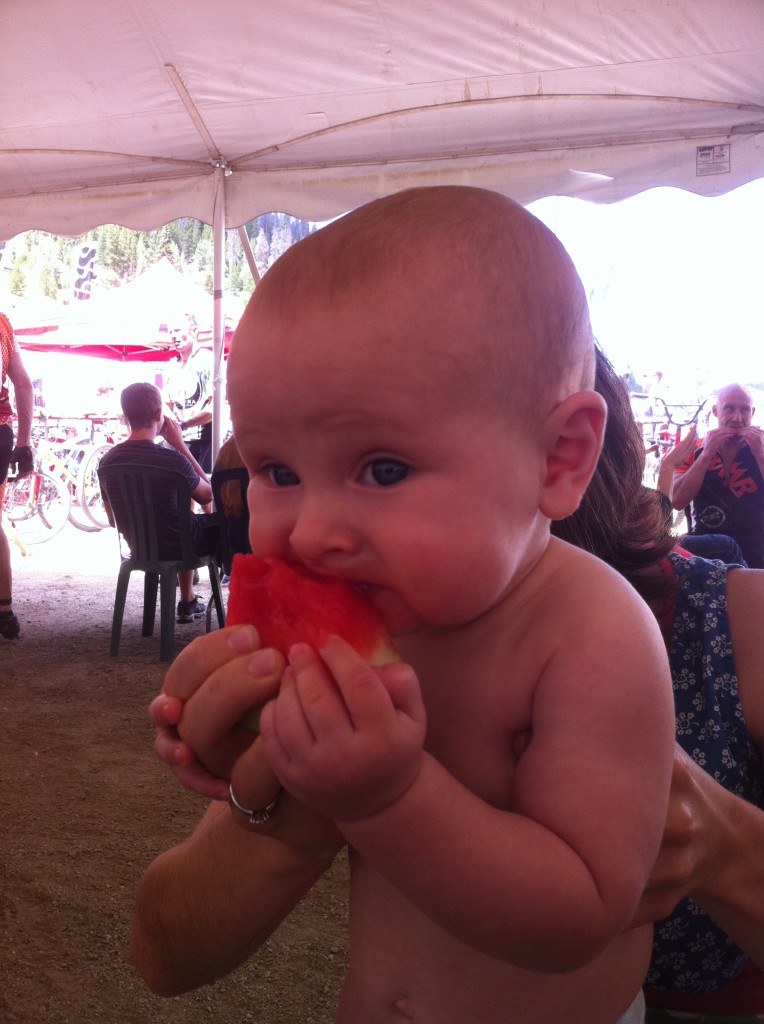 Wyatt has stamps from five countries (Germany, France, Italy, Austria, and Switzerland) in his passport, and it was a joy to be able to share our love of traveling with him.  He also has two "grandmothers" in France and one in Italy, who have all sung him songs, played games with him, and provided some extra love along the way.
When we returned home, Wyatt attended his first Leadville 100 event, once again as a member of the support crew while I rode in the race.  I began crewing at the Leadville 100 run when my dad raced it for the first time when I was six, and we have been treating these races a family get-togethers since then.  This was our first three-generation Leadville event, and I hope it is the first of many! 
Wyatt, Grandpa, and Dad hung out after the Leadville 100 MTB race.  Wyatt was still fresh, but dad was a bit dusty!
The following snapshots describe the summer highlights of my summer with Wyatt.
Day one of our European adventure, walking around Frankfurt: http://www.youtube.com/watch?v=y2FxIghuKHg
Attending two stages, the infamous l'Alpe d'Huez and the Time Trial, of Le Tour de France with Wyatt was absolutely amazing.  Most people wait a lifetime and never get to meet El Diablo (you know, the famous Devil guy who's always on TV), and Wyatt got to shake his hand before he even knew what he was doing.  Here, we cheer for Colorado rider Tom Danielson, who finished 9th at the Tour: http://www.youtube.com/watch?v=RTmjflWtJaQ
Watching the top pro road bikers in the world tackle the same roads Wyatt (in his trailer) and I ride for training was pretty neat.  Here we are at the USA Pro Cycling Challenge on Lookout Mountain: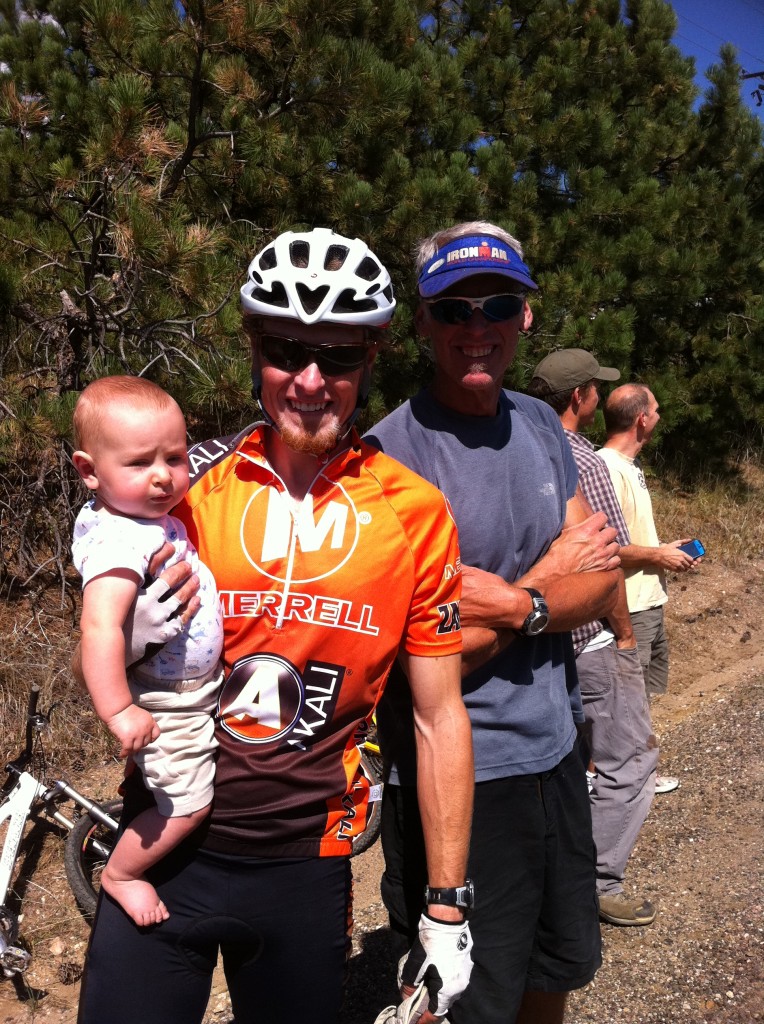 While Wyatt and Amy followed along online, I competed in a four day adventure race in Wulong, China.  My teammates and I ran, biked, climbed, canyoneered, rafted, carried fruit, and trudged through mud in an incredible area.  Here's a video I took of the Opening Ceremony that I look forward to sharing with Wyatt when he's older: http://www.youtube.com/watch?v=1MaWXe8NrzI
Wyatt got his first podium appearance at the Teva Mountain Games: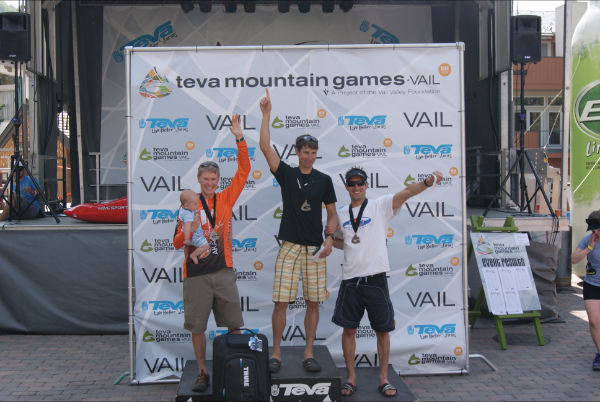 Wyatt and I look forward to a lifetime of adventurous memories together.  He's definitely got the spirit, the attitude, and the flexibility, and I think we're in for some good times!
Thanks for reading,
Travis and Wyatt Macy