Several weeks ago, Alex and I climbed Mt. Shavano in south central Colorado.  Over 14,229 feet, the trail gains 4,600 feet in 4 miles.  It's pretty much up for a very long time.  As I lagged behind Alex and Utah, I met a father and son from Kansas who were resting on the trail at 13,000 feet.  I complimented the boy as he was younger than most kids you'll ever meet on a 14'er.  I was even more astonished when I heard he was from the flatlands of Kansas.  While they had decided to call it quits for the day, it was great seeing a father process the decision with his son.  The two of them just sitting together on a rock, enjoying the view and each other.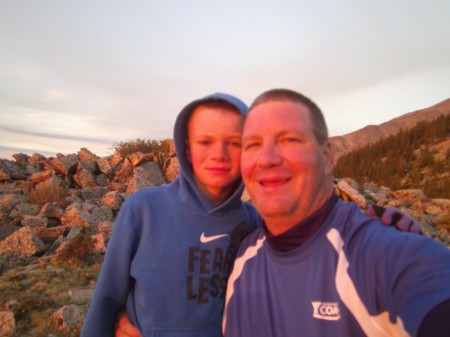 Last summer some friends and I decided to head west to Colorado and climb a 14er together—Mt. Elbert.  We had such a good time that we decided to try it again this summer.  My son Bryson, all of 8 years old, boldly decided to join us.  So on July 14-16, 2011, we drove west from Wichita to Salida, and ascended Mt. Shavano.  Setting up a base camp at 9,800 feet of Friday, we awoke at 3am to begin our climb.  While most of the group made the peak, and some went on to tag Tabegauche Peak, Bryson and Dad took a much slower ascent, but got to stop and chat with Craig before we petered out at 13,000 feet at the angel of Shavano. 
While we didn't get Bryson to the peak on his first effort, we had a great time, and made our way back to the trailhead in time to enjoy a rib eye steak in Salida.  Next summer we will certainly try again, and a gift card to REI would sure help fund the trip! 
Monte & Bryson Evans
Wichita, KS