Gothic, CO:
Like many early mining settlements in Colorado, the town of Gothic is nothing more than a few cabins, a research laboratory, and a local convenience store anymore. The ghost town is full of history though, and not to be overlooked. It is nestled near the base of Mt. Crested Butte and just a few miles out of the town of Crested Butte, a quaint Colorado mountain retreat for the locals only. Its positioning in the heart of the mountains gives views of many peaks including the Maroon Bells and Capital and Conundrum peaks.
The Rocky Mountain Biological Laboratory currently calls Gothic its home and engages scientists and students in researching rare alpine species. Its location at nearly 10,000' above sea level makes it a unique location for biodiversity.
Off-roading is highly popular in the area given the close proximity to Pearl and Schofield passes and many other 4×4 roads. The views are absolutely unbeatable and the valley facilitates many other activities. Fly fishing in the pristine streams or in the nearby Taylor River is not only popular but very profitable. A number of private ranches also offer horseback rides that get off the beaten path and take you into the forest and separate the cowboys and cowgirls from the city slickers. Fantasy Ranch Outfitters provides a great experience for a fair price. Their guides are friendly and engaging and their horses are well taken care of. For more information, visit their site at www.fantasyranchoutfitters.com.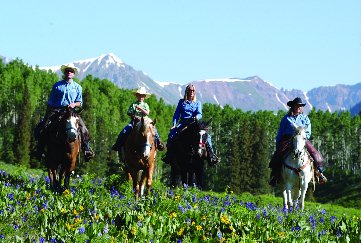 Just outside of Gothic is the ghost town of Crystal. While the town is a unique site, it is famous for one of Colorado's most photographed locations: Crystal Mill. Anyone that is willing to hike a short distance can experience this historic site for themselves.