St. Elmo, CO:
Founded in 1880, St. Elmo, CO is no longer an official municipality of the state but rather a so-called "ghost town;" in 1922 when the narrow-gauge rail road stopped running and the gold and silver ran out, the population of St. Elmo seemingly disappeared over night. The town was initially founded during the heat of the Colorado gold and silver rush. The surrounding hills are home to nearly 150 mining claims including the famous Iron Chest mine.

St. Elmo is a wonderful winter destination for snowmobiling, cross country skiing, and snow showing, as well as some beautiful photography. Three hours from Denver and four and a half from Grand Junction, St. Elmo is located in the center of Colorado in Chaffee County. The town is only a few miles west of the Arkansas valley and settled at the base of Mt. Antero, Colorado's richest aquamarine deposit.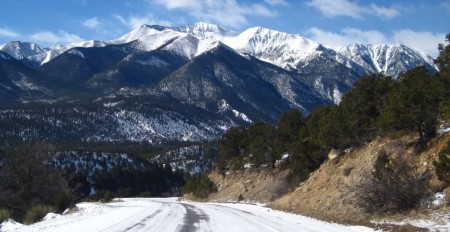 Cabin rentals are available in St. Elmo; for more information visit http://www.st-elmo.com/townhistory.html. ATV rentals are also available, but only in the summer months. From the ghost town, one can travel to Tin cup pass, the mining towns of the past Hancock and Pomeroy, visit the historic Alpine Tunnel, or simply enjoy St. Elmo itself. Camping is available in the area, as well as is lodging in nearby Buena Vista or Salida.