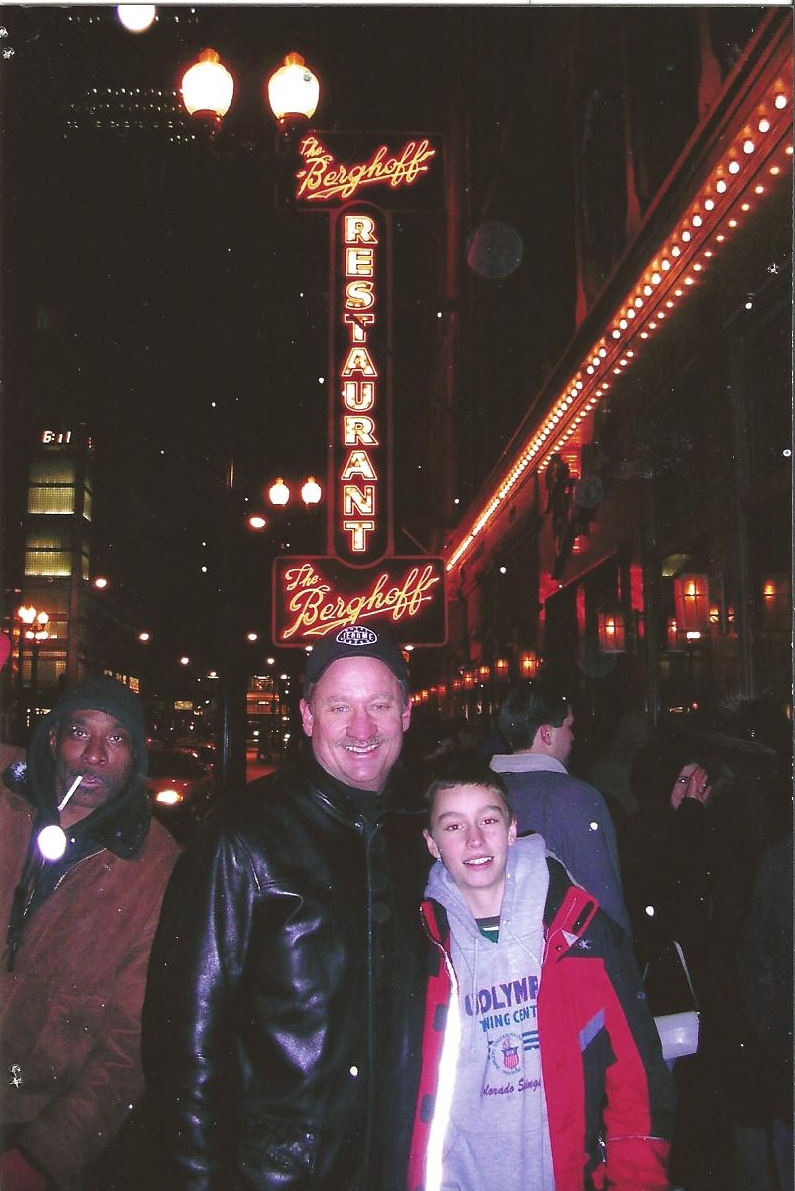 I recently received a piece from travel writer Karla Hudak regarding tips for traveling through the Midwest. Immediately I thought of our driving trips to St. Louis, Tennessee, and tracing the eastern portion of Lewis and Clark's epic adventure. In particular, I remembered with great fondness Alex's first trip to Chicago and Valparaiso, Indiana.
It started in Denver when I heard a story on NPR about the upcoming closing of Chicago's oldest restaurant, Berghoff's. Having eaten many a great meal there in college, I just had to make it back one final time and introduce my son to it as well. So, on a cold, wet weekend in February, Alex and I stood outside for three hours as the line to get in wrapped several city blocks for their closing Saturday night. As you can see in the picture, the wait was worth it as we settled down to plates of snitzel, potato pancakes, pasta and some Berghoff's famous home brew for Dad.
The rest of that trip include driving along the lake shore, seeing the World War II U-Boat at the Museum of Nature and Science, walking along the shops in the miracle Mile and simply enjoying the atmosphere inside the Chicago Loop. We also worked in a tour of the Valparaiso University campus, saw the vacant lot where my fraternity once stood and enjoyed the best pizza in the world at Greeks Pizza.
As we head into fall, I thought you would enjoy her piece for making your trip a little bit easier. When it comes to eating during fall time, nothing beats the sausage, fried chicken and pie dinners at churches and VFW's throughout the region. While I'm not convinced about Karla's tenth point, I've followed most of the others. We've had to hide our ID's, credit cards and cash in many strange places so maybe we will give some thought to identity theft protection. Here is her piece:
Thanks to leisure travelers choosing to make close-in trips, the tourism levels in Illinois are back to pre-recession levels for 2011, according to ChicagoTribune.com. More than 93 million people traveled to Illinois last year, which was 10 percent more than in 2010. Families living in the Midwest can enjoy a great road trip within the 12 Midwestern states for less money and hassle than traveling farther away. Make your journey more fun with these ten quick travel tips for a great road trip through the Midwest.
Get a Guidebook
Consider a guidebook like the Midwest Getaway Guide to help you plan your trip. Guidebooks have maps, festival information and ideas for day trips, weekend getaways and longer vacations. If you find yourself somewhere without Internet access or with a depleted cell phone battery, you will be glad to have physical maps nearby to rely on.
Bring a Cooler
A cooler filled with snacks and cold drinks saves you the hassle of pulling over every time someone needs to quench their thirst or fill their stomach.
Opt for Satellite Radio
Satellite radio lets you listen to your favorite radio stations wherever you go, not just in town.
Get Identity Theft Protection
Identity theft is a very real problem when people go on vacations. Make your vacation more relaxing by signing up for an identity protection program. You can actually find in-depth, background information on companies like Lifelock on Crunchbase. Lifelock monitors your identity for suspicious behavior and tracks your credit score. A program like this can definitely give you piece of mind when traveling to foreign places for the first time.
Splurge on a GPS Navigator
A GPS navigator does not just give you directions; It can also help you find restaurants and hotels or alert you if you miss an exit or turn.
Pack Lightly
Only take what you need. Bring as few shoes and clothing items as possible. Leave laptops, purses, and even wallet at home if you can. Not only do these items take up extra room, but bringing them with you means they can be stolen- along with your identity. You do not need all of your credit cards or IDs for a road trip, and you definitely should not need checks.
Be Careful Where You Surf
You may need to stop somewhere to connect to a Wi-Fi hotspot during your trip, perhaps to check on a hotel reservation. Only make reservations and pay from secure sites or you may find your accounts hacked into, leaving you without any gas or food money.
Use Bank ATMs
Thieves sometimes install card readers at ATMs. Typically, ATMs inside of banks are safe. Most locations have smartphone apps that let you easily find the nearest banking center with an ATM.
Swing by Chicago
Chicago is the largest city in the Midwest with a population of 2,853,114. With so many great places to visit in the Midwest, it can be challenging to pick where to go. Chicago is sure to have something for everyone, and you can find out more about what the city has to offer with Eyewitness Travel Guide– a great trip resource.
Stick to the Plan
Although you will see plenty of fun places to make unplanned stops on your road trip, resist the urge unless it is something truly special. Deviating from your plan can throw off the whole trip and add stress as you try to make up for lost time.
These ten quick travel tips for a great road trip through the Midwest should make your family's vacation more fun and hassle-free!