I recently found out about your website via Twitter and was thoroughly impressed by your mission and your enthusiasm. It didn't hurt that you were wearing a CU Buffs shirt. (-:
It sounds like you and I have had similar experiences when it comes to sharing our passion with our children. Every year since my daughter was born, I took her up to Montana to visit my family. Shortly after she turned one, we took a slight detour into Idaho for a biking adventure. We met my dad, who was in his late sixties at the time, and rode the Route of the Hiawatha bike trail. Of course my daughter was in a bike trailer for the trip, but I was worried that she would get scared when we biked through the long tunnels. As it turns out, she absolutely loved the tunnels and would start crying when we came out into the sunlight.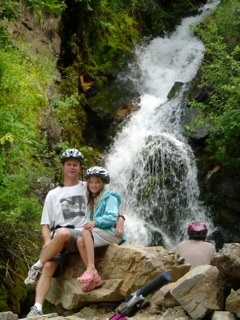 We had so much fun on the Idaho trip, that I started looking around for similar trails. I was told that there were a whole series of these things called rail-trails around the country. But back in the 1990s, I had a heck of a time finding information about family biking trails. The internet was starting to fill up with information about wild-and-crazy mountain biking trails and bike races and road rides. But I had a tough time finding good, long family trails. If the rumors were true, they were out there, but it was difficult finding information about them.
So I started collecting snippets of trail information from newspapers and magazines. Friends and family members sent me information in care packages and emails. Pretty soon I had a stack of folders filled with trail information, so I decided to start a website. It was my network of trails on the internet, and I called it Trailsnet.com. Since then, I have traveled all over the country riding trails and sharing them on Trailsnet.com. Sometimes I was able to take my daughter with me, and other times I scouted the trails on my own. But I was always on the lookout for trails that could be ridden by Dads, Moms, kids, and grandparents. At the time, I was a teacher and sponsor of a middle school mountain bike club in Boulder, CO, so I would throw in the occasional mountain bike trail, but most of my trails were focused on family fun and accessibility.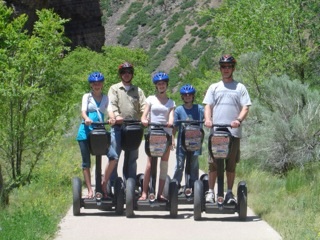 Nowadays, I continue to add trails to Trailsnet.com, but I've opened it up so others can add trails, too. Even though the family focus is still important to me, I love it when people add any kind of trail. I've even started catering to trails for those folks who enjoy navigating personal transportation vehicles such as recumbents, Trikkes, Elliptigos, inline skates, etc. There is no longer a lack of trail websites out there, but Trailsnet.com is the only one that started as a family-friendly trail site. While the other sites still seem to think the only types of bikers are mountain bikers and road bikers, Trailsnet realizes there are cruisers, electric cycles, hybrids, urban cycles, tandems, recumbents and more. And, in addition to hikers and backpackers, there are trail runners, snowshoers, cross-country skiers, and mobility- impaired trail users.
So what started out as a dad/daughter/grandfather trip, turned into a lifelong passion. From the time when my daughter was an infant, we have enjoyed getting out on trails together. That was always our special dad and daughter time. I hope that other parents learn the joys of exploring trails with their children, as I did. It's healthy, it's environmentally friendly, it's a great time for bonding, but most of all, it's a lot of fun.
Happy trails!!
Kevin Purdy
Louisville, CO
www.trailsnet.com
kevin@trailsnet.com
www.facebook.com/trailsnet
http://twitter.com/trailsnet